Transparent hairs???
(Hair Loss Research & Clinical Trials)
» » Both photos are taken at the same scale-distance-zoom. No problem here.
»
» How can you be sure? What did you do to verify?

I used the animated gif to find out what points of one photo correspond to what points in the other photo. And I see that the distances are exactly the same.

»
» » Have you noticed that in the "after" photo, hairs are much darker?
»
» Yep.
»
» » This cannot be an effect of the drug,
»
» Why not? If it increases pigmentation hairs would be darker. One thing I
» was thinking about was the tendency of some topicals to taint the hair,
» thus incorrectly making them appear thicker and more pigmented. Folligen
» has this "toppik-like" quality to some degree, as do some other topicals.
» It would be preferable if photos were after about two days without
» treament, the subject having washed his hair one or twice in the meantime.

Well, yes, it is possible that this drug enhances pigmentation. in that case, cheers for them. But it is really surprising.

»
» » And have you noticed that hairs are a bit transparent? Sometimes you
» can
» » see through a hair, another hair that is behind.
»
» That seems right to me. I'm not surprised a small hair without much
» pigmentation under a bright light would appear slightly transparent.

but some of them are like made of glass!!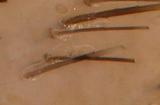 Spanish Dude is located in [NA] and he is available to meet: NO
---
Complete thread: