Update – Dr. Umar's Patient Improves Upon Results With 1300 Additional Grafts
(Hair Transplant)
This patient initially chose Dr. Umar to repair the poor and odd looking growth from a previous strip surgery. Hair failed to grow in the crown area. And this created a rather isolated looking patch on the top part of his head.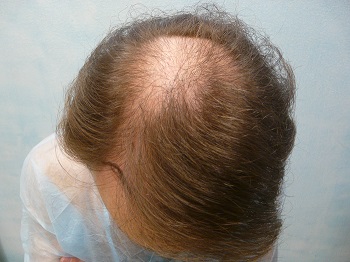 Furthermore, he also wanted to conceal his strip scar.
This patient's first hair transplant procedure by Dr. Umar was done in 2010. 2600 grafts of head and nape hair were used for improving upon the coverage. 300 grafts of body hair were inserted to help camouflage the strip scar. To view his video for this surgery, which includes his testimony, click here

Earlier in 2014, the patient decided to improve upon these results with a follow up procedure to create better density. The photos shown below reflect the use of 1300 body hair grafts six months after this operation.











Allie is located in LOS ANGELES and he is available to meet: NO
---
I am not a physician. I represent Dr. Umar of DermHair Clinic. Visit his website for more info http://www.dermhairclinic.com
===
Dr. Umar is a sponsor of HairSite. Rankings on HairSite are based on # of successful patient results posted and not affected by sponsorship. Any clinic or doctor can post their patient results in HairSite forum and earn a point for every successful result posted. It is not the mandate of HairSite to track failed or unsuccessful results, readers are advised to do their own research carefully before making a decision about hair transplant and not rely solely on our ranking system.
---
Complete thread:
Update – Dr. Umar's Patient Improves Upon Results With 1300 Additional Grafts

- Allie, 03.01.2015, 02:36

(Hair Transplant)