Francis (NW6 - 3500 FUHT + 12 beard hair grafts) Repair HT update
(Hair Transplant)
Dear readers,
Francis visited us in 2007.

He is an early NW 6.
Before visiting us, he had undergone a strip HT at some other clinic, where a full length, (ear to ear), strip had been taken.
In Francis opinion, he noticed vey scanty growth. On inspection, the grafts that grew from Francis 1st HT had pitting and were mostly minigrafts. This gave rise to a pluggy look. The grafts had been placed in the front hairline areas.



In 2007, we performed the first stage of Francis' repair HT.

Salient features -
a) Francis prefers to go for a NW 1 hairline and concentrate the grafts in the frontal area.
b) A small beard hair to scalp transplant was performed at the same sitting to help Francis evaluate the healing and growth of beard hair grafts firsthand.


He visited us 9 months after his repair HT part 1.

He is happy with the progress in all respects.

He has decided to use a combination of scalp and beard grafts to fill the remaining top and crown areas at a moderate density.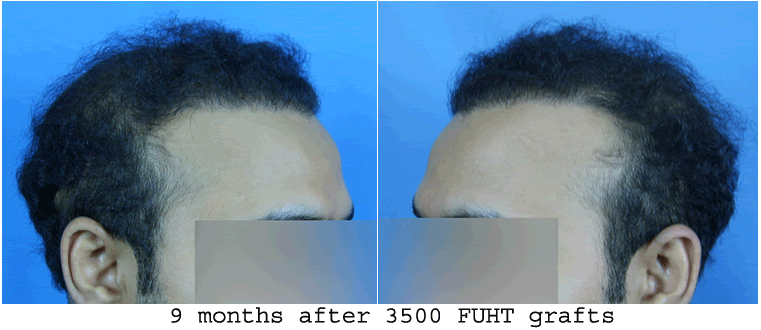 Dr Ruby is located in NEW DELHI, INDIA and he is available to meet: YES
email hairsite@aol.com to arrange a meeting.
---
I work for Dr. A's Clinic as a hair transplant surgeon.
My opinions need not be shared by Dr. Arvind Poswal.
Blog - www.hairtransplantcentre.blogspot.com
Website - www.fusehair.com
Email - fusehair1@gmail.com
---
Complete thread:
Francis (NW6 - 3500 FUHT + 12 beard hair grafts) Repair HT update

- Dr Ruby, 15.10.2008, 16:22

(Hair Transplant)