Hairline Transplant- 3000 uGrafts By Dr. Umar Transforms Patient's Appearance
(Hair Transplant)
This patient was not happy with his appearance due to the way his hairline and temples had receded. He started losing his hair when he was about 28 years old.

And when he reached his late forties, he decided to finally take action with a hair transplant procedure. He sought the help of Dr. Umar who extracted 3000 uGrafts from his head and nape area. These were inserted into the hairline and temple regions.

The patient was very pleased with his outcome as well as the compliments he received from others. Here are before and after pictures: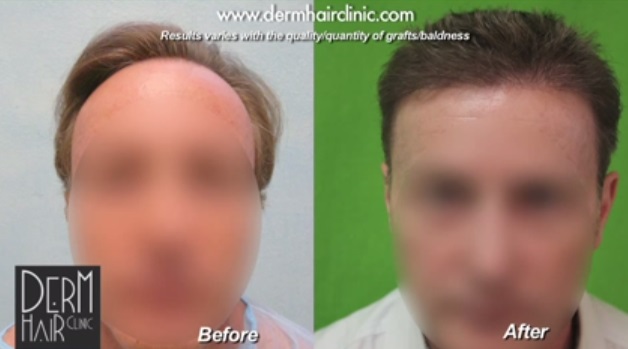 He also noted that because the results were so natural in appearance (as well as the fact that there was no linear scar), his hair dresser was surprised that he had a hair transplant

For more information, including the patients video, click here




Allie is located in LOS ANGELES and he is available to meet: NO
---
I am not a physician. I represent Dr. Umar of DermHair Clinic. Visit his website for more info http://www.dermhairclinic.com
===
Dr. Umar is a sponsor of HairSite. Rankings on HairSite are based on # of successful patient results posted and not affected by sponsorship. Any clinic or doctor can post their patient results in HairSite forum and earn a point for every successful result posted. It is not the mandate of HairSite to track failed or unsuccessful results, readers are advised to do their own research carefully before making a decision about hair transplant and not rely solely on our ranking system.
---
Complete thread:
Hairline Transplant- 3000 uGrafts By Dr. Umar Transforms Patient's Appearance

- Allie, 30.06.2013, 22:39

(Hair Transplant)